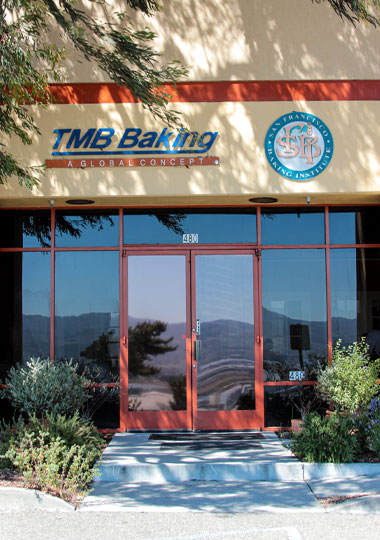 TMB Baking
TMB Baking headquarters, located in South San Francisco, California, was founded originally in 1986 as Consulting and Marketing Services (CMS) by French natives Michel and Evelyn Suas. However, in 1996 the company began operating under its current name TMB Baking. In the same year, Michel founded the baking school San Francisco Baking Institute (SFBI), which quickly becoming a world renowned leader in artisan bread and pastry education. The global alumni base would go on to include thousands of professionals and enthusiasts alike.
Experts have praised SFBI for elevating the baking craft and raising the standard of bread and pastry education. SFBI also offers consulting to some of the top domestic and international bakeries. However, in order to focus on the school, his retail enterprises (Thorough Bread & Pastry and patisserie, which he co-founded with Belinda Leong), Mr. Suas sold TMB Baking to a group of employees in 2011. For more about Michel Suas and SFBI, please visit their website.
Today, TMB Baking remains a full-service baking equipment, small wares & accessories, and consulting company who has been proudly serving the global artisan bread and baked goods industry for decades. Over the years, CMS/TMB Baking has served thousands of its bakery customers by providing them with process and layout consulting services, bakery equipment selection, installation, spare parts & technical support, along with accessories and small wares to allow bakeries to grow and flourish. TMB Baking continues to be located next door to SFBI, and serves as an enduring resource to the baking industry. Together, TMB Baking and SFBI constitute globally recognized centers of baking excellence, attracting customers, students and consulting clients worldwide.
If you plan to be in the San Francisco Bay Area, we welcome you to visit us.
Meet Our Team
It takes a team of intelligent, focused, and hard-working employees to create an environment of success in any company. We have a good group and are continually striving to improve in all that we do to better serve our customers. Here's our team and a brief introduction to every employee.