Spare Parts & Tech Support
Spare Parts Philosophy & Approach
At TMB Baking, we believe in supporting the products that we sell. This begins with us stocking an extensive supply of spare parts for equipment including ovens, loaders, mixers, divider, moulders, retarder-proofer and much more. We've had parts sit on the shelves for years, then shocked and astound a desperate baker by having it available for their "antique" bakery equipment, when even the original manufacturer may no longer stock the part. Some see this as foolish; we see this as the price we need to pay to support our customers, because they are our lifeblood and our passion.
We take advantage of regular shipments of bakery equipment and supplies from our European manufacturers to also order spare parts when we hit our minimum stock levels on them. Yes, we are sometimes caught off-guard by runs in certain items and we do have to resort to periodic DHL shipments to meet urgent demand, but we do our absolute best to stay on top of our inventory so that we have the parts when you need them.
When you need a spare part, please call us at (650) 589-5724 or send an email to parts@tmbbaking.com. This goes to a list of employees, including our General Manager/CEO (because it's our priority), who will promptly address your need.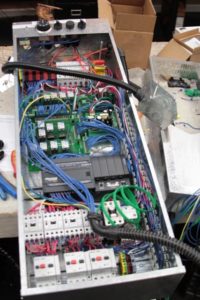 Tech Support
With bakery installations world-wide, we understand the importance of supporting our customers with technical support. This begins with providing installation and contractor's guides, exploded views of all equipment and phone support from our team 24/7. When you work with TMB Baking, you will have the cell phones of every key employee and the ability to reach us whenever you need to.
Our Technical Support Manager and resident Electrical Engineer, Michael Kudatsky, has helped design and work to create controls for our deck and rack ovens and retarder-proofers that are both easy to use and work in automatic and manual over-ride, so maximum up-time is ensured. We expect the same standards from our other bakery equipment suppliers internationally, and support their equipment with ETL approvals and assist with foreign language translations, as well.
The bottom line is that we are there when you need us and will work our hardest to ensure that any down-time is minimized through both technical and spare parts support.